The Voice Aid Association – a charity organization breaks new ground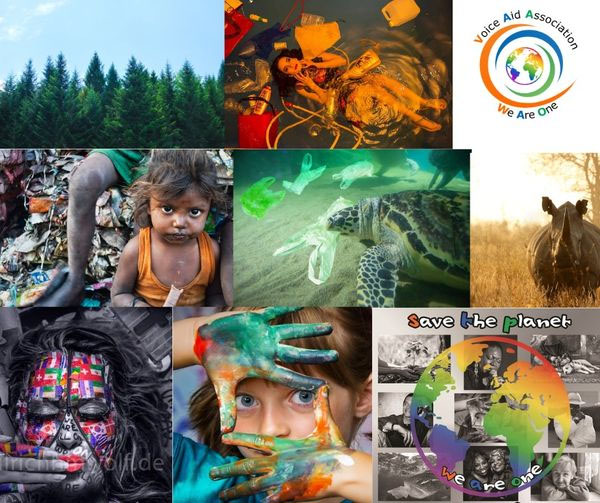 IIn 2020, the Voice Aid Association e.V. had to master many challenges. Triggered by the pandemic, many events of our Voice Aid artists were cancelled. Everything had to be rethought and creative solutions had to be found. www.voice-aid.com
The Voice Aid Association is a federally recognized, non-profit, new generation global organization that enthusiastically works with its ambassadors, musicians and members to promote greater humanity, a better environment and the protection of the planet.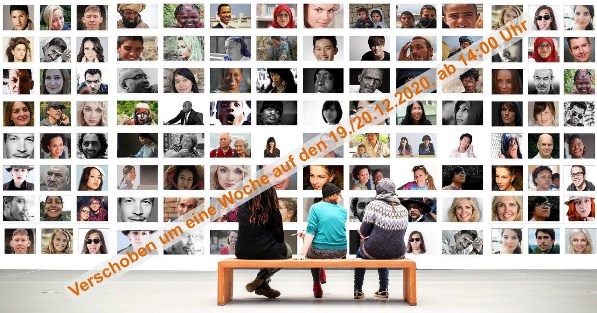 The year 2020 ended with an online event of a special kind. For the first time in Germany, the Hidden Champions and Social Heroes of Life were honored by Voice Aid. By honoring the true heroes at this time, Voice Aid wants to set an example and draw attention to the fact that in many places there are people who are committed to helping others but receive little recognition or too little pay for highly responsible tasks.
Besides Europe-wide known speakers like Oliver Geisselhart, Patric Heizmann and Astrid Arens – The Voice, also worldwide known artists like Dante Thomas, Lori Glori, the Weather Girls, Nisha Kataria and Iskandar Widjaja supported this unique event.
Our Voice Aid ambassador Lori Glori was then reported on for the first time in the Business Voice magazine, and a short time later the single produced by Voice Aid was released by her: "Children of the World". www.business-voice-magazin.com/lori-glori/
Queen Diambi Kabatusuila, our Patron for Africa, was featured in the February 2021 magazine based on her visit to the World Economic Summit in Davos. www.business-voice-magazin.com/queen-diambi-kabatusuila/
In the middle of the month, Voice Aid launched the first ever nationwide support program for small and medium-sized businesses offered by a charity organization. Up to 80% of the funding amount is distributed.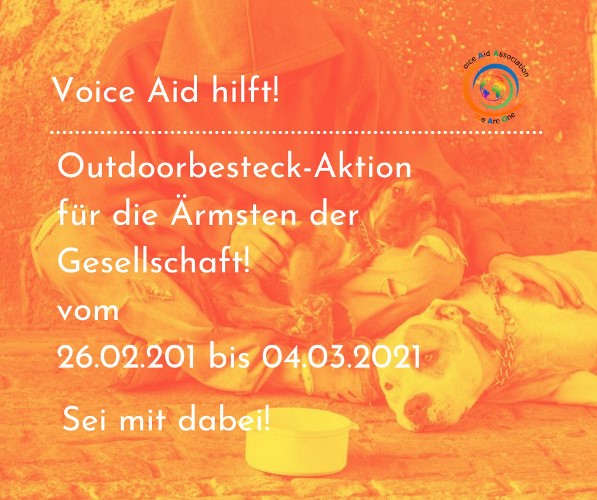 And a short time later we started our first plastic cleanse challenge with great success. The idea was to consciously do without plastic wherever possible.
Then, at the end of February to the beginning of March, Voice Aid supported a special outdoor cutlery campaign in Berlin, set up by Thomas de Vachroi. The aim was to provide outdoor cutlery for the poorest in society, as there will be a general ban on plastic from July 1, 2021. Cutlery in catering centers will be eliminated in the future, for this we need replacements.
At the end of March/beginning of April, we parted ways with our partner Citizen Circel and wished them all success in their future endeavors.
In the meantime, Voice Aid has grown a bit. Thorsten Schmidt from the LuB Academy in Berlin joined VA, as did Ulf Brethauer, Sebastian Hummelmeier, Juliane Putzing with her Textwerkstatt, Ama Kulikov and Simone Gosdschan.
Starting in July 2021, the VA launched its first newsletter, which has been published once a month ever since. www.voice-aid-magazine.com/newsletter/
Germany's biggest flood disaster kept everyone on tenterhooks in the same month. In the district of Bad Neuenahr Ahrweiler – Altenahr – Schuld and the district of Erftstadt, there was such heavy rainfall that entire towns were wiped out. A large fundraising campaign was launched for this purpose and many people from the region were on the spot as first responders.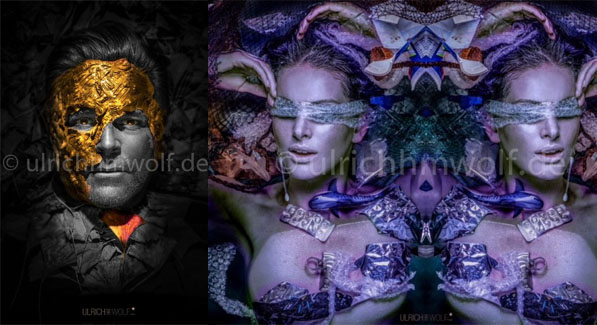 One of our Voice Aid artists, Ulrich Wolf, launched an exhibition in Berlin at the Kapitalclub on August 8, 2021. The focus of this exhibition is the spectacular Faces artwork of the sought-after photo designer. He just came from Venice, where he was an official partner at the Biennale. This exhibition includes Faces works with Thomas Anders and other celebrities who went to Wolf's art world for a good cause. www.business-voice-magazin.com/ulrich-wolf/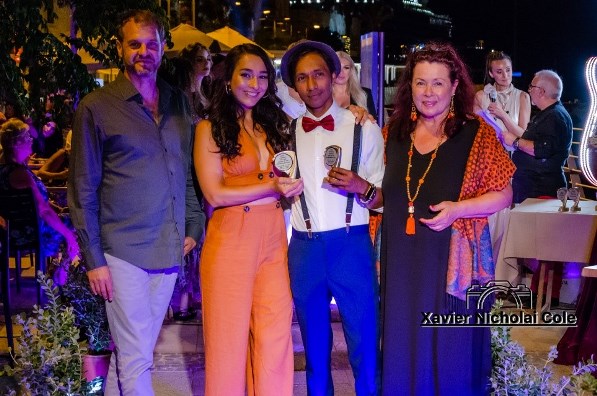 In mid-August, we went to Malta for the finale of the TV casting show AKILA. In this show, models of any diversity are cast and prepared for their future career aspirations. Janice Busuttil has developed this special format to set an example in the fashion world. Models with curves, authists, transsexuals, small models and many more were represented there. The special thing about it was that all of them had to master different challenges, which dealt with the topic of the environment and plastic, for example. In the final Voice Aid awarded the two winners AnaKlara for beach clean-up actions and Will as a diving instructor for plastic-free oceans.
At the end of August, Voice Aid musician and artist Dante Thomas was introduced to the community by Business Voice Magazine. An incredibly likeable person who landed a global hit with "Miss California." Today he works with Tommy Hilfinger and promotes his song "I'm still in love with America" in the USA. www.business-voice-magazin.com/dante-thomas/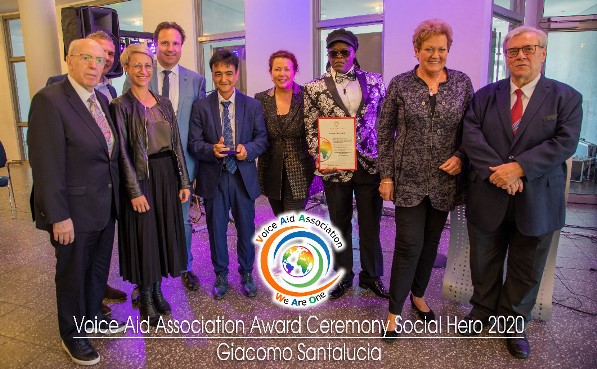 In September, the first Social Hero Award for 2020 was presented in person to Giacomo Santalucia at the BIG Eppel in Eppelborn. In a wonderful, unique event, the full-time marketing manager of the AOK Saarland, who was awarded the Federal Cross of Merit by the Federal Republic of Germany two years ago, was honored. Reiner Calmund (moderator), Monika Bachmann (Minister for Social Affairs and Health) Astrid Arens (President of the Voice Aid Association) and James Williams (singer, Vice Chairman of Voice Aid) as well as Andreas Feld (Mayor of Eppelborn) held the laudations. www.business-voice-magazin.com/voice-aid-social-hero-award-2020/
In October, the song "Children of the World" was included in the shortlist for the 64th Recording Academy / Grammys 2022 in Los Angeles. Thus history was written. For the first time, a charity song is thus given the opportunity to gain a foothold in such a format. A statement for the world. www.business-voice-magazin.com/grammy-awards-2022/
Then on 16.10.2021 a general meeting of Voice Aid took place in the National Geopark Thuringia Inselberg. In the Bergmannstube Friedrichroda, which is run by Christin Rosik, all members were lovingly entertained and supplied. Mrs. Juliane Putzing is now to be welcomed in the board of Voice Aid as deputy chairwoman.
At the beginning of November, Voice Aid presented for the first time in Germany the advanced training course for office management assistants, sustainability and the environment. A big step in the world of further and advanced training, which is intended to support medium-sized companies in their sustainability tasks. www.lub-akademie.de/pages/lub-umwelt.html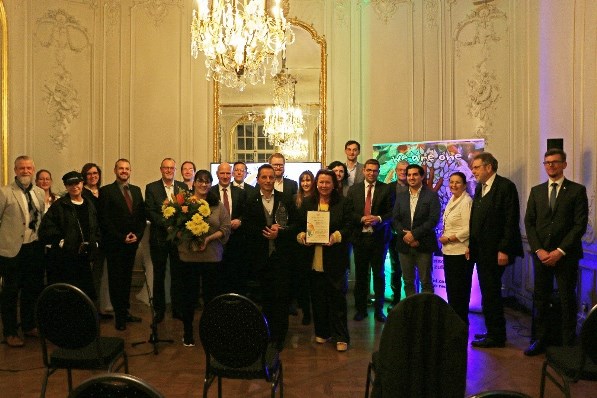 On November 10, 2021 we experienced in the breathtaking ambience of the Schlosshotel Berlin by Patrick Hellmann, together with Thomas de Vachroi and the guests from politics, business and the Protestant church district, a goosebump giving award ceremony. On this evening Thomas de Vachroi was awarded the Voice Aid Hidden Champion of Life Award 2020. Voice Aid President Mrs. Astrid Arens and Regino Hawich (founding member of Voice Aid) led through the evening. They addressed Thomas de Vachroi with moving words. Personal words were addressed to Thomas de Vachroi by the District Mayor of Berlin Neukölln Martin Hikel, the Brandenburg Member of Parliament Erik Stohn and the Member of Parliament AGH Christopher Förster. After a moving award ceremony, Thomas de Vachroi addressed his guests. Quote: "I accept the honor on behalf of all the people who stand by me helpfully and go along my way to help people in need. Without you, it would be dark." www.business-voice-magazin.com/voice-aid-hidden-champion-of-life-award-2020-in-berlin/
On November 14th, DIBK (German Italian Association for Education and Culture) and Voice Aid Association announced their future cooperation, which was sealed with a unique project. A worldwide tree planting campaign, in which zoos and schools will be connected, representative for a healthy environment, for education, for integration and tolerance, will go on air from now on. The President of Voice Aid Association, Astrid Arens, and the President of DIBK, Giacomo Santalucia, look forward to an active and pioneering cooperation.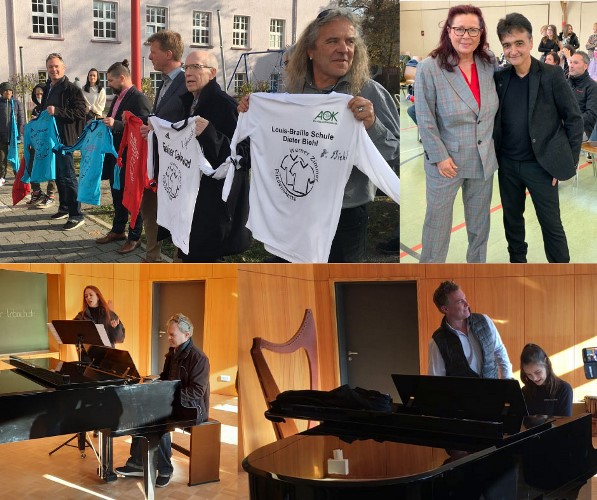 On November 11, the first tree of this tree planting campaign was planted at the Louis Braille School for the Blind in Lebach. This was the first joint event of DIBK and Voice Aid. In addition to the tree planting action, Director Sven Görgen and Dieter Biehl, music teacher, were honored as new ambassadors of the Werner Zimmer Peace Chain. Frank Nimsgern, world-famous musical composer, played an opening song and the laudations were held by Mr. Reinhold Jost (Saarland Minister for Environment and Consumer Protection), Mr. Sven Görgen (Director of the Lebach School for the Blind), Mr. Klauspeter Brill (Mayor of Lebach), Mrs. Astrid Arens (President of Voice Aid Association) and Reiner Calmund, who accompanied the event as guest of honor. www.business-voice-magazin.com/einzigartiges-friedensfest-in-der-blindenschule-in-lebach/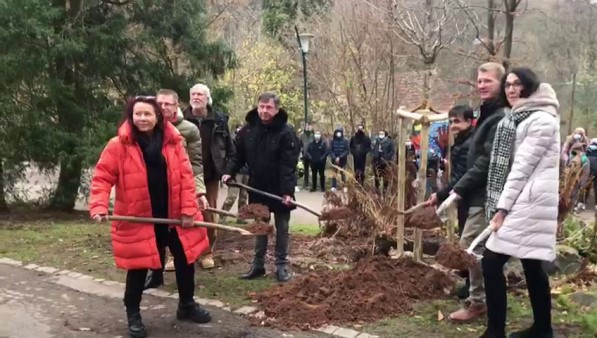 Each tree in this special peace chain stands for more conscience, peace, humanity and love for nature. The first tree of this chain was planted on 25.11.21 at 10:00 in the morning in the zoological garden of the city of Neunkirchen – Saarland under the direction of Dr. Norbert Fritsch. As a guest of honor we could welcome the SR radio presenter and program group leader of SR3 Eberhardt Schilling on this day. In addition, the school for the blind from Lebach with two classes under the direction of Mr. Sven Görgen was present at this event. Another active school class was there from the Pallotti School Neunkirchen The third school on this day was the KBBZ, the commercial education center from Neunkirchen, which makes itself strong for the topic of racism. www.business-voice-magazin.com/eine-baumfriedenskette-geht-um-die-welt/
At the end of November, the Grimm brothers, who own the senior living facility in Idar-Oberstein, received the Hidden Champion of Life 2020 award. This is the first time that a senior living facility and a Rhineland-Palatinate company have been honored with this award. The award was presented by the President of the Voice Aid Association Mrs. Astrid Arens and the Vice President Mr. James Williams. Special thanks went to the laudators Mayor Frank Frühauf and the Federal Minister for Food and Agriculture Mrs. Julia Klöckner. What impressed us from Voice Aid very much were several statements from Christian and Marc André Grimm: "Our employees deserve to be honored. We are so proud of these people who simply give their all in this crazy time and much more besides. When I think about how our heads are constantly spinning when we discuss topics such as new corona rules, new duty rosters, protection and safety, tests, etc. together with our management staff." www.business-voice-magazin.com/brueder-grimm-hidden-champion-award-2020/
The year is now drawing to a close. Other new members are Henrik Wehle, Robel Haile with his company VIDA, Manuela Raasch and Petra Lanz.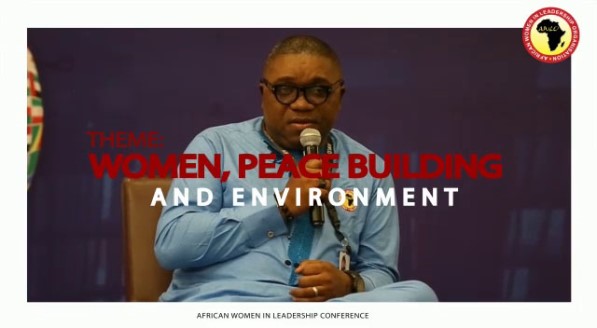 The African organization AWLO with its founder Dr. Elisha Attai and the Voice Aid Association announced their official cooperation at the end of November and will work together on the issues of women's advancement, empowerment and leadership in Africa in 2022.
We have been informed that Voice Aid Association is in the middle of a new project: the D.I.P.E.S.H., a digital international platform for the environment, sustainability and humanity, which will launch in early 2022. This novel and unique project will help shape the future and give a new face to the sustainable world – companies, products, people. In line with Voice Aid's "We Are One" philosophy, this project will help make the world a better place.
We Are One – for the sake of people and the planet

Share: